Linked Painting for this Virtual Christmas Painting Feast
Remember Thanksgiving and Laurie's Monet Turkey.
Go to Laurie's Gallery in Paris, she keeps it up to date
4-19-14, Happy Easter.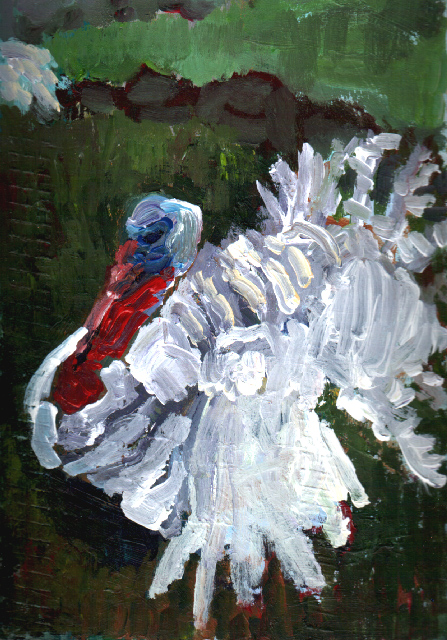 I painted the Christmas Party House right here in Kaupo, Maui.
This is the morning light when the porch lights up from the original paint color and the
sun light is coming from behind the leaves. Many greens and many reds.
There are so many new Liquitex reds I had to keep a pigment chart I made, handy.
This page is on the daily progress site for this painting.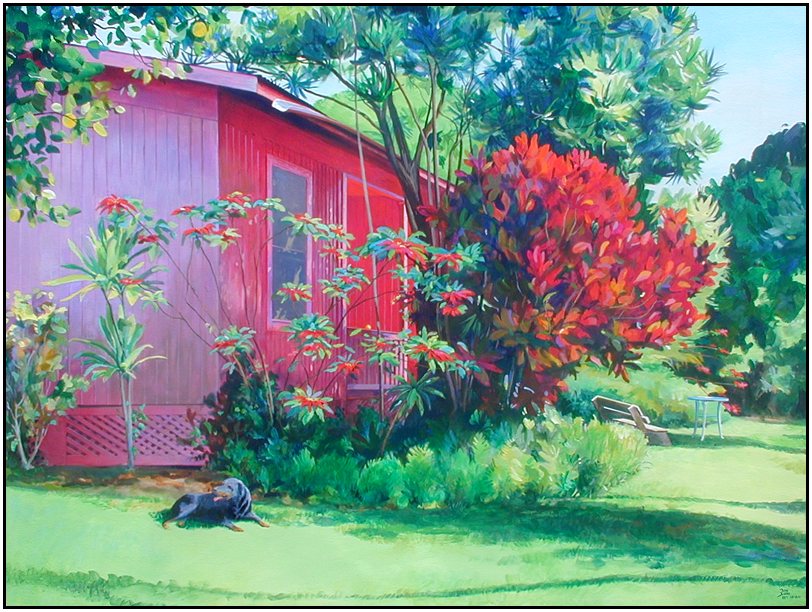 Detail of the party animal, Koala.
Last night my friend Mano who lives in this house went hunting.
This morning we had an 85 lb. wild boar.
This painting of mine is of the hide, draped over a log and a coconut.
The roasted ribs were flavored with Koran style teriyaki sauce with
baked ulu (breadfruit) and pamello fruit on the side.
Carly did pastels of these delicious entree's on velvet paper.

Oh.. look at this, Thanks Laura! They are beautiful!
Here are some pickles and condiments for the table!
Did them a while back during harvest for just such an occasion.
They are oil crayon on paper, 9"x12" Enjoy!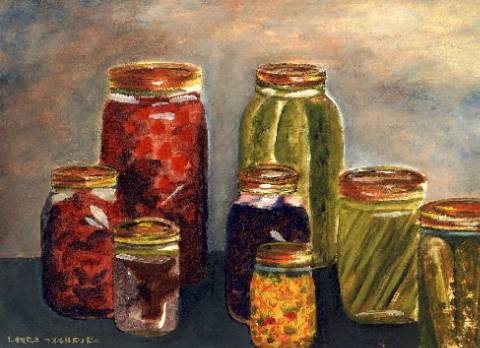 Gill works in colored pencils.
"I did this basic apple using the real colour wheel... I'm very happy with it.. "
Now we prepare for Christmas.
Bob Abrahams made this Christmas Card painting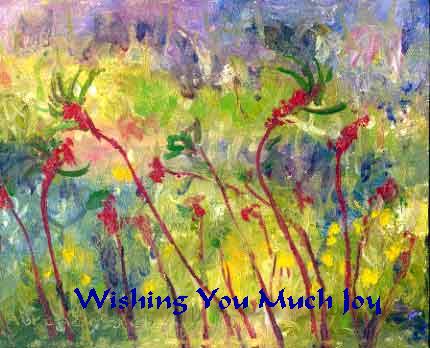 For the ladies I painted a Christmas Orchid
Eggs and Brazilian Red Pepper Corns.
Some people like it hot, Here are some Kaupo hot peppers. They are only 1/2" long.
The detail shows the strong color contrast I found for the magenta and red peppers.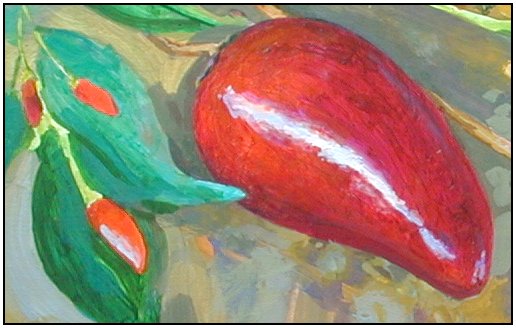 Laurie in Paris painted us a Christmas Fig tree.
NEXT PAINTING Makana Bay Party
PREVIOUS PAINTING Kaupo Eggs and Brazilian Pepper Corns