---
Painting on Location
by Donald A. Jusko
Hana Fountain
11x15, acrylic on panel
July 10, 2002
What a beautiful day here in Wainapanapa. All of this was carried with me in one trip, including the umbrella which isn't shown.
Day 2
I forgot to set up my umbrella, so it rained three times.
There I was, standing behind a tree with my chair, staying out of the windblown rain. Peeking behind the tree with my painting pressed against it painting in areas I could work in.
And I forgot my wind breaker too, but it was exciting. I'm looking forward to tomorrow.
Day 4,
I decided my painting time was 12:00.
12:10 will probably be tomorrow's time as the days are getting longer.
Now I can be more definitive on where the shadows are. The whole facing wall has been cooled down. The spout and railings are more complete, the background arch in the water looks terrible I'll make it recede more tomorrow.
I had to leave the leaves for one more day at the correct time.
Ha, I never got the chance, it rained until I left. I'll finish it the next time I'm in Hana.
This is an example of the white outs I paint in at the end of each day. Two coats block ot the under paint completely.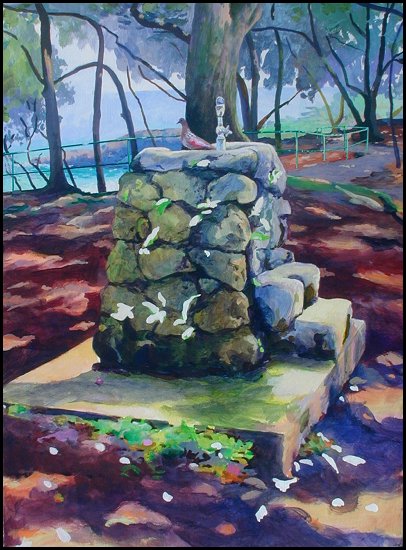 It took a month to get back here to finish this painting.



NEXT PAINTING, Piero's Villa Tamiranda in Kaupo Maui
PREVIOUS PAINTING, acrylic, Nahiku Rain Flowers