12/22/00
We filled three glasses of water and colored them Cyan, Magenta and Yellow,
all transparent primary colors. I used food coloring from Easter.
Mixing all three of them together in a separate cup,
we made a dark Black color.
Then we mixed and made the secondary colors, Red, Blue and Green.
By mixing any primary color with another primary color.
We also made this very dark black color. by mixing a primary and its opposite secondary color.
They know the Real Color Wheel. Click it clan!
Computer Coloring Book
We learned the 3 primary colors, Yellow, Magenta and Cyan.
And we learned how to make the secondary colors, Red, Blue and Green.


Don Jusko and class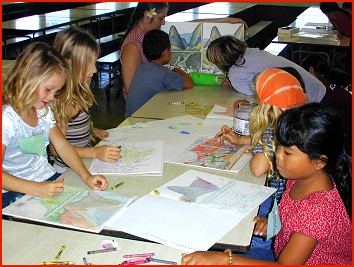 Computer Coloring Maui Coloring Book.
SEE THE 1ST GRADE CHILDREN HOLDING THEIR WORK, PART 2

3-31-14, Maile learned the 3 primaries and made a color wheel in 6 minutes.

PART 3, 3RD GRADE CHILDREN LEARNING THE RCW, 2010
NEXT, 3 Color limited Palette
PREVIOUS, Murex Purple

UNRELATED PAGE, Other Color Wheel