---
Painting on Location
by Donald A. Jusko
Ontario Lake, Mexico
New York, Little Salmon River
11x15, acrylic on panel
August 9, 2002, #875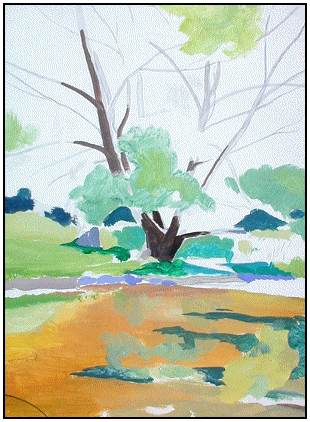 Photo View
This is a salmon stream in season and it's called the Little Salmon River. It's 36 miles north of Syracuse in Mexico, New York. The weather has been 90 degrees in the day and 50 degrees at night. I'll do my large three primary color fresco here in my cousin John Loyer's house behind me. Here is the fresco index, see these links, NY 82x155 Buon Fresco Mural.
Wooden Match Charcoal Drawing
I traveled to the East Coast without my chamois or charcoal.
This is a great how-to tip.
Burn a wooden match halfway down and break off the tip.
It works great as a charcoal stick. The more pressure you add the darker the line. This was a two match drawing :)
Also to make it easier for myself I painted the whole canvas with acrylic white before using the charcoal match stick. This was done the night before.
Gray paint over charcoal.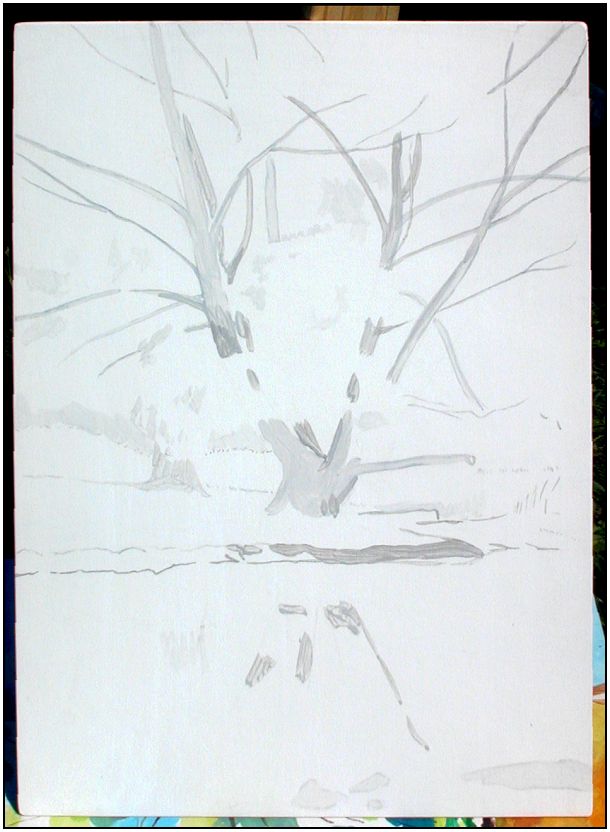 I had to buy a whole set of acrylics, including jar white.
Here is another how-to tip.
Jar white is a medium viscosity paint and to use it in a squirt bottle like I do it has to be thinned to a consistency that will flow off a tablespoon or out of a brush.
Day One
The painting time for this painting is from 1 to 3:30. Since had to include the drawing in the first day I didn't get 100% coverage. I didn't want to add wrong colors late in the day.
Set-up
This is what my rig looks like, I had to make an umbrella and an easel. With a long extension cord I could hook up my computer for sounds and a notepad for notes.
Day 2
I got it 100% covered today, except for the sky.
The day was not as bright because of the haze, basically it's all new paint and new colors.
Day 3
There is hardly any orange in the water in this hazy weather. The river is low and flat, I'll get to pick my ripples when a fish jumps. There were big color changes today. I don't get stuck if the colors are wrong, I change them. the main thing is not to paint with the wrong color.
Day 4
If I didn't know this painting would turn out Ok, I would hate it. It happens sometimes, I just have to work on it until I like it.
Day 5, August 14th, 2002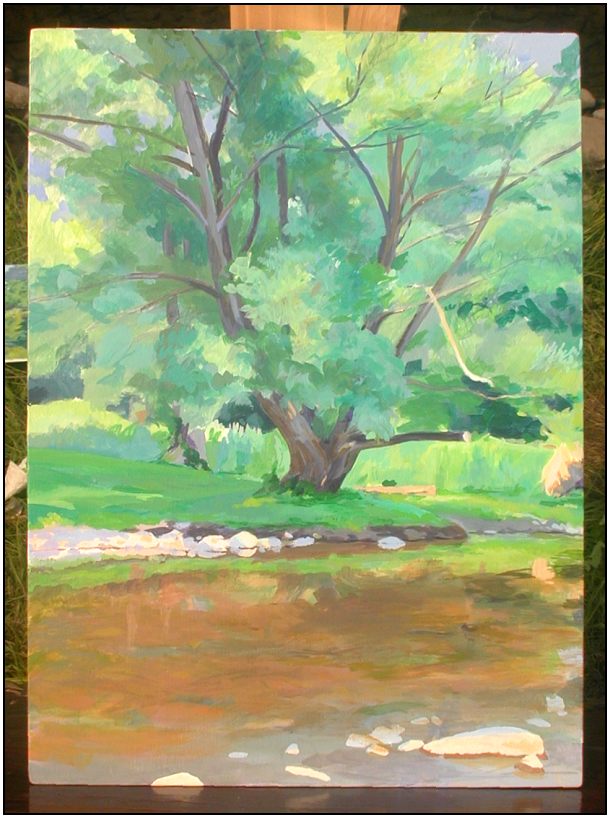 The reason this tree is so difficult for me is as the sun changes the colors change. Plus the shape of the patterns. I didn't catch the full patterns the first day.
Day 6, Finished
No sun, I'm sunk. I can't finish this one, I just don't want to make up colors just to finish it. At least it's not hot here today. Next month the trees will start turning their famous yellow, orange and red colors and I'll have to miss them. :(
I changed my mind. I'll paint today.
No sun. Change all the sun colors, make it a cloudy, hazy day.
I would have liked a sunny painting but these colors have there own charm.
It's August, 2002, in May, 2004 I'll be back to paint a 82"x155' = 6'10"x13' 3 color mural in the house.
NEXT PAINTING Acrylic, My Brother Rick's 17th Hole
PREVIOUS PAINTING Acrylic, Lake Ontario Barn

Order this complete color course on CD, $35.00.
Order only a 5"X5" Laminated Real Color Wheel $10.00