---
Painting on Location
Picturatranslucida Pigments
Transparent Pigments

picturatranslucida.htm
picturatranslucida2.htm
picturatranslucidabrasspot.htm
When painting on shiny metal support,
a clear area is usually the area seen as dark.
Painting with dark opaque colors is sometimes done
in the anchor area of an image as on picturatranslucida.htm"
In a reflection zone white does not necessarily appear white
this must be accounted for as on page picturatranslucida.htm.
These are my transparent and translucent colors
#1. Chinese Vermilion #2. Cobalt Violet (missing) #3. Rembrandt Rose
#4. Danial Smith Magenta PR122 #5. W/N Permanent Sap Green #6. Thalo Green Y/S
#7. Thalo Green #8. Blue Green Turquoise #9. Dioxine Purple
#10. Ultramarine Violet #11. Ultramarine Blue #12. Thalo Blue #13. Gamboge
#14. Indian Yellow BrownSide #15. Indian Yellow GoldSide #16. Blocks Transparent Yellow #17.
Burnt Umber #18 Burnt Sienna #19. Transparent Yellow Oxide (missing) #20. Asphaltum (missing)
Top and Mass tones on a shiny black support.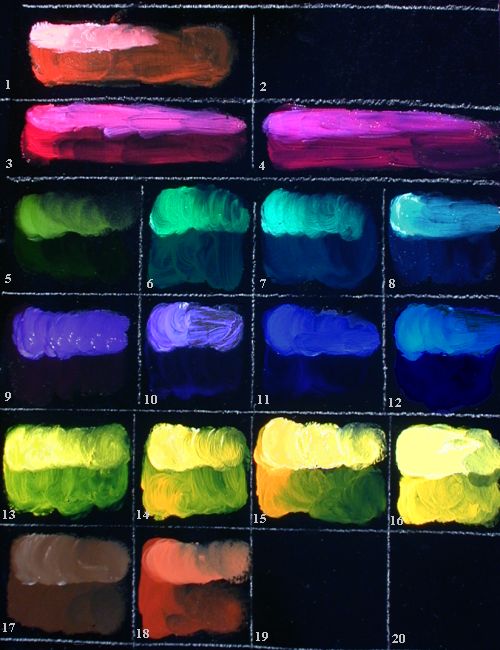 Same colors on a flat black support.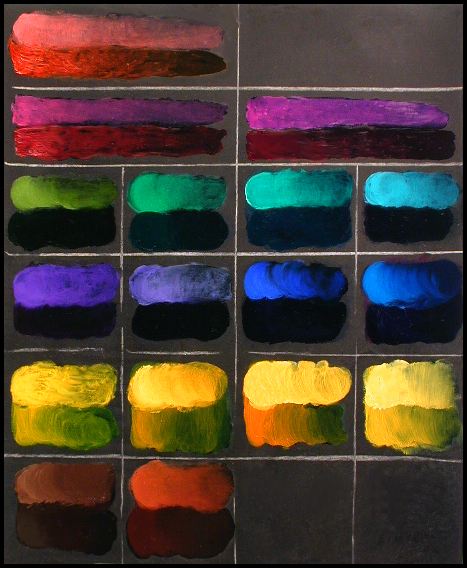 Here are the same 20 colors on silver.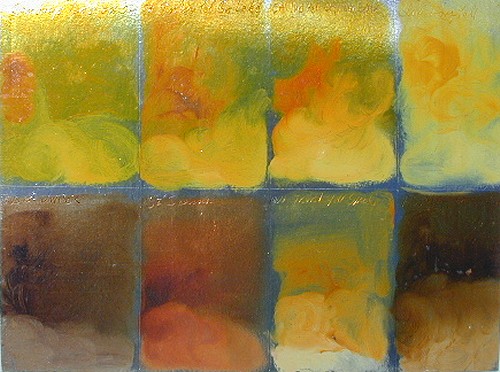 Each color will be photographed with a transparent highlight and no highlight
azo burnt orange, 20ml incredibly transparent, this deep orange is similar to cadmium orange deep. Amazing in glazes, no photo.

---




Old Holland's synthitic Indian Yellow without a bright reflection and with a reflection off the silver support.

Thalo Green photos without a light reflection and with.
Notice how the area with white on the right side looks dark when there is a reflection of light in the area. That's very tricky to work with. You see the darks stay dark.
NEXT Daisy's Beautiful Tree
PREVIOUS Pictura Translucida Brass Pot

Order this complete color course on CD, $35.00.
Order only a 5"X5" Laminated Real Color Wheel $10.00.