Annimation

Animation's First photo, 9:00. I started this buon fresco at 9:00 in the morning, the mortar was applied the night before on a red clay hand made tile. The 3/8" mortar contained 1/2 sand. 1/2 marble meal, casein and alum. Over night it was under plastic. This morning I gave it two coats of new lime milk made from lime powder. The medium was casein and lime water.

Second photo, 10:45. The drawing was made directly on the wet mortar with Green Earth, mono tone. Over that I used Zinc White, Italian Warm Ocher, Yellow Ocher, Hurculieum Red and Burnt Sienna. Also Cadmium Orange and Cobalt Blue Light, both separately and together as a neutral dark. Quinacridone Magenta and Thalo Green were also used separately, and together as the darkest dark.

Third photo, 12:00.

Fourth photo, 12:45.

Fifth photo, 1:30.

Sixth photo, 45 more minutes painting, the mortar was still absorbing pigment.
Between the fifth and sixth photo I took a one hour break. When I returned a crack was starting and the cement was starting to sag as I paint on an incline and the tile and the mortar were drying a two different rates.

Detail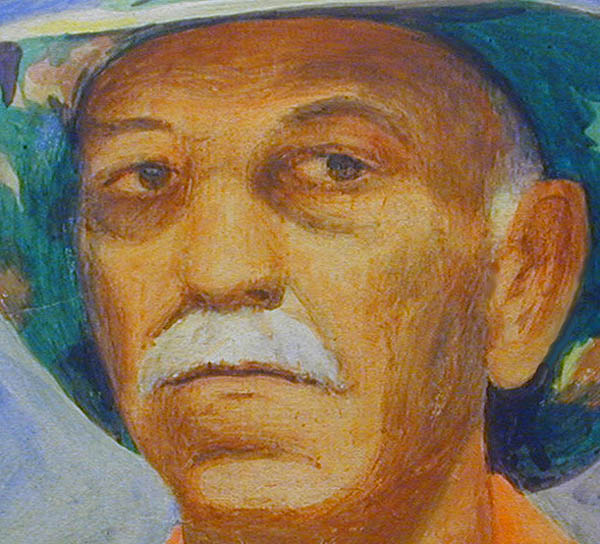 It just keeps getting worst! The mortar shrunk a quarter on an inch because it held too much water, and every where I used the Green Earth the pigment is coming off. To the right is the tile that held too much water and allowed the mortar to separate from it. I had to make a second test for that Green Earth not working, after all, all the old books said that was the classic way to paint flesh in fresco. Go here for the results. It was not the Green Earth, the fresco was past the absorption time but it looked like it was working because I had casein in the limewater, but not enough to make the pigment stick as secco. Don't put casein in the mortar if you are going to use alum in the water, they don't mix. In fact, CASEIN IN THE MORTAR ISN'T A GOOD IDEA, the slip lime rises to the top and it doesn't grip the casein.
Look at that background, it's terrible. That's what happens when you don't use full strength colors, that was put on with a wash, it should have been color and lime milk or better yet, color and titanium white. I'm learning..