Day 18, July 27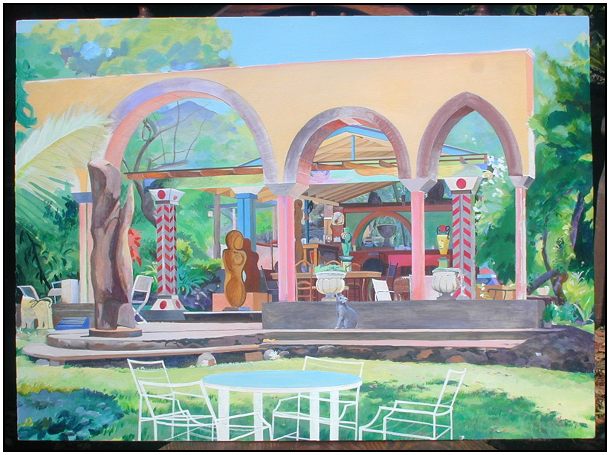 I'm close to getting 100% coverage with paint. Usually I think of that as the half way point. The lawn chairs will take a day.
During tomorrow's allotted sun time I must resolve these colors.
There is a mural painted on the cross beam on the two red pillars.
The pots need their 10:00 colors.
The arched brick areas are still pretty raw.
The space under the big arch shows the mountain peak called Haliakala, around it the middle ground tree has its leaves and branches.
There is that big palm fron on the left that has white reflected highlights. I can't get that tomorrow, I must finish that area in one setting.
Maybe that patch of low blue, green and purple plants in the bottom left corner. It would be nice to even notice what colors and patterns they make.
I have a three day extention to the ending date, from august 1st to the 3rd. That's when I'm going back to New Jersey for a month.
Office View
This is my view from the kitchen table, where my laptop work station is. The umbrella in the bacground is where I am painting from. My two small chairs are at the ends of the table, the large main chair is out of the painting.