Drawing and Painting on Location
by Donald A. Jusko
Villa Tamarinda Kaupo, Maui
22x30, acrylic on panel
Day 22, August 1, 2002
I've got two more mornings to finish. Today I got a start on the lawn chairs, worked on the dog, and generally got to all the areas I had circled in chalk last night. One that I kept missing was those cement pots, one is next to Cha-cha's head.
Here is a detail of the area. I have to transform those highlight patterns in the foliage into leaves.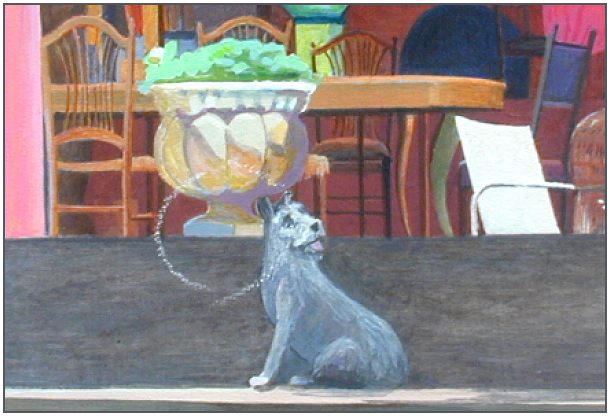 The chalk circle is one of six that I put around the painting to remind me in the morning that these areas need to be fixed. See how the bowl is lopsided where the dogs ear is. The ear and the pot need work. The dog needs to be anchored and solid, he's still transparent.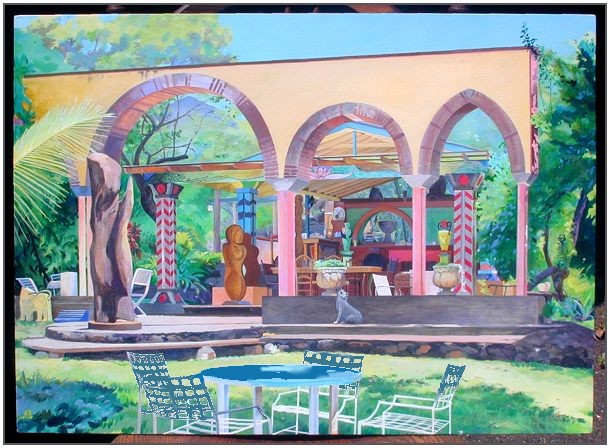 It's been two months since I have been to Kaupo, I hope the chairs are still there! I made a computer test image on how I thought the color contrasts of the chairs might work when I get back to the painting. This is only a test!
Go to the painting's day 1, 3, 4, 5, 6, 7, 9, 11, 12, 14, 18, 22, Finished