After my color tests here are the 12 colors I choose to paint anything in front of me in fresco. The pigments are lime safe. The plastic sealed palette is made by Holbine.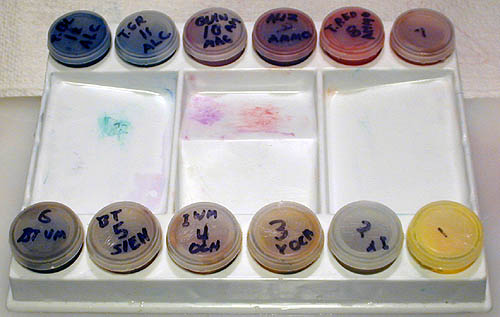 The colors are:
STORED IN WATER
(1) Cadmium Yellow, (2) Indian Yellow Br/s, (3) Yellow Ocher, (4) Italian Warm Ocher was changed to Titanium White, (5) Burnt Sienna, (6) Burnt Umber, which is caustic to iron. (7) Ercolano - Hurculaium - Venetian Red
STORED IN AMMONIA
(8) Quinacridone Red, (9) D.S. Alizarin Crimson was exchanged to Cobalt Blue Light and stored in water.
STORED IN ALCOHOL
(10) Quinacridone Magenta Y, PR122 (11) Thalo Green, (12) Thalo Blue/Cyan PB15.
They all passed the lime jar time test. Titanium White was added to keep light washes of color from being used.
Today, 8-4-14, I would use Titanium white, Indian yellow br/s, Q. Magenta and Cyan (Phathalocyanine, PBlue15, RCW#25.6, Cyan).
I prefer full color painting to earth color pigments,
RGB codes, CMYK colors.