This is my biography page. I have recorded 37 years of painting and tips from my notes. My "Artist's Real Color Wheel" is unique, joining the pigment and light colors for the first time, check it out.
CLICK HERE FOR AN IN-DEPTH BIOGRAPHY PAGE WITH OIL,
ACRYLIC AND WATERCOLOR SELF PORTRAITS.
I've been painting from a van here on Maui for the past 30 years. [ this page was first put up in '98 ] I have had the 1969 van for over ten years. Its body is mostly fiberglass by now :) from all the rust repair. The first van was a 1965, I really traveled some rough roads with that one. This third van, a 1985, I got in 2001. The 3rd photo is this van, taken 8-15-2009.
I just repainted it over a good factory paint job with One-Shot sign painters paint, it still has the lead in it. Again in 2010, it still looks good and it's running fine.
The panel on top has a solar panel on it for my laptop computer, the main reason is to protect my windshield from the sun coming in and the rain distorting my view,
The steering wheel is my easel most of the time. The 1969 was a better positioned easel, the '85 needed a steering wheel easel, it works, but I paint outside when I can.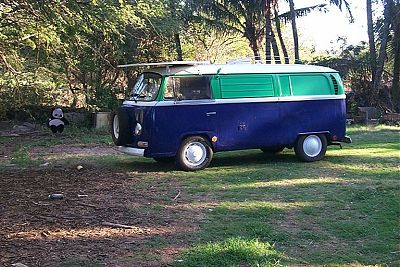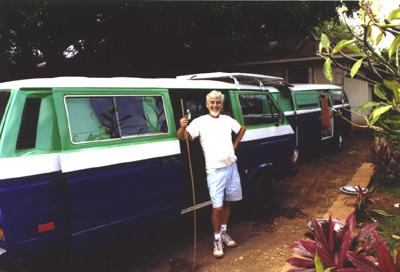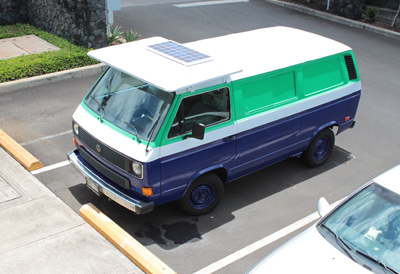 Dec.1st, 1998. Back out on location. Here with my buddy Duncan, painting the Lahaina Mountains. Notice the Lahaina Lady in the Mountain on Day six, everybody that lives in Lahaina knows she's up there.



Day one, 16x24 acrylic.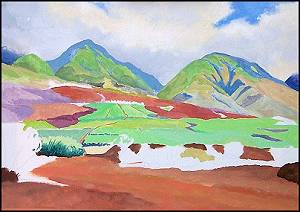 Day two.
It looks like it should only take one more day to finish.

Day five.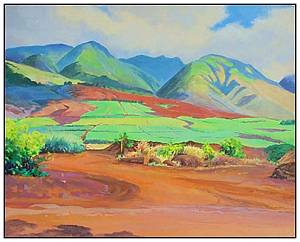 Day six. Well now, here it is two months later, Duncan had to go to Thailand for the Christmas season so I waited to finish, he's my student. I finally finished on 3-3-99. The grass had turned green and I was still painting the dried weed color. I always said, paint the colors of one hour of one day, no matter how many days it takes, I made an exception.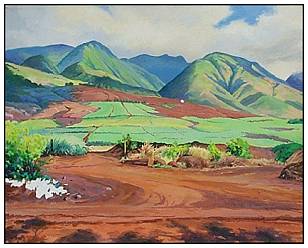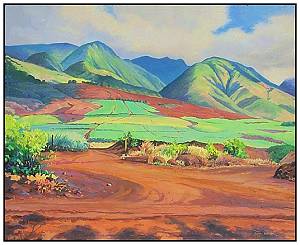 Day seven, finished. It's a lot different from my day 2 picture.
---