Painting on Location
by Donald A. Jusko
Piero's Steps in Kaupo, Maui
22x15 acrylic on panel, Giclee Gallery - Order Page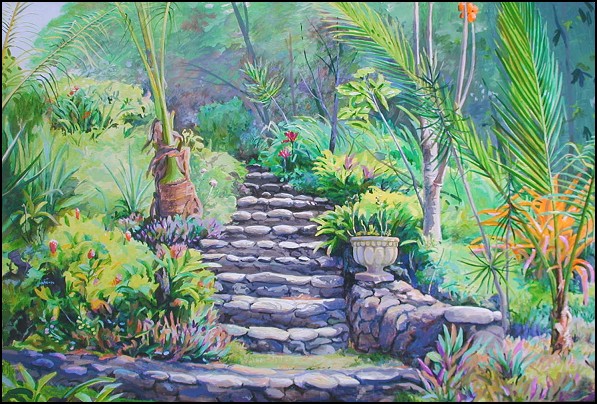 This is how one makes a depth of field.

In the foreground and middle ground
it's always darkest next to the light and lightest next to the dark.
Basically, it's darker on the object behind.
On a foreground object sometimes the object behind is sunlit and the object
in the front foreground is in a cast shadow.
Sometimes as it happens, both objects are the same color and value and you get a resting spot.
Be aware of the contrasts and as is often proclaimed,
make the blur resting spot happen when you see a chance to use it.
Sometimes it happens when the sky is next to any distant object also.
Link to the Villa Tamarinda painting, New Window
Link to the Villa Tamarinda Palm Tree painting, New Window
NEXT PAINTING, Lahaina Cane House, Copal medium
PREVIOUS PAINTING, Daisy's Tree in Hana, acrylic
Testimonials, New Window

Order this complete color course on CD, $35.00.
Order only a 5"X5" Laminated Real Color Wheel $10.00

I've seen that cat on other pages, she really gets around.
Looking for the mouse "Click" I think.