Night Painting on Location
Jo's House at Night, Ohau, Hawaii
15x22 Acrylic on panel
Painted on 1/8 mahogany plywood, polyester cloth and acrylic gesso panel.
Sealed with a water based polyurethane resin. Stretcher bar type backing.
Location Photo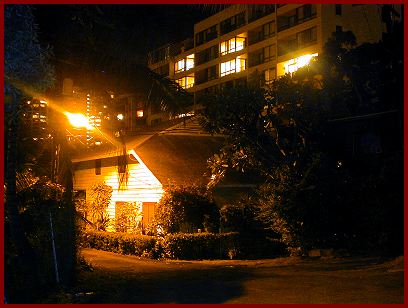 I was visiting my friend Jo on Ohau, Here is the drawing I made in charcoal at 1AM last night.
I think I got all my concentric ring outlines representing shapes in.
That's a big palm tree on the top to bottom left. Notice the 1 to 10 ratio of palm fronds actual drawn in.
The whole time I was drawing my head didn't move and my finger stayed on that circle of light as my base mark.
Drawing day 1, evening.
I can't wait till tonight. My painting time should really be extended because all the light is artificial.
I'm painting under an orange colored street light behind me.
The first thing I should do as I'm applying my palette colors is decide which opposition colors when mixed together would give me the shadow colors for the scene I will be looking at.
Some where between the Orange and Cobalt Blue neutral opposition combination and the Cad Red and Thalo Blue opposition combination.
Both probably, plus Magenta and Green dark to emphasize the foreground.
I set up my full palette every time any way so I'll have those choices plus the dark Yellow Brown and Ultramarine Blue opposition.
Never use black pigment.
All these RCW oppositions form perfect dark neutral colors. Any dark neutral color can be tinted to a neutral gray or anywhere's in between.
The real primary colors are Yellow, Magenta and Cyan not Red, Yellow and Blue, as everyone here knows the RYB color theory has the wrong secondary colors.
Painting day 2
I started painting about 8:00 PM with a 1/2" white sable flat long hair.
The white paint was added this morning making corrections for this evenings location work,
the corrections were done on location in the daylight.
Half the painting was done with the painting on my lap, the other half it was laying on the ground.
I only brought my chair, palette and a few brushes, plus water and some paper towels.
While sitting in the chair and looking at all the buildings around me with one eye,
it seemed obvious that all the buildings side edge lines were heading to a V.P. way below me as opposed
to reflections on water heading toward me to a spot below me at the waters level.
This was only true while looking at the vertical center line of the scene directly in front of you.
By turning your head to face any building, that building would have it's side lines straight down.
All the white was painted over in the original colors and all the paint holidays were filled in. I'm ready for tonight.
Day 3, two more hours on location.
I really had to stop, there were wet places all over the picture and there was nowhere to touch and rest my hand safely.
The colors are so subtle and I can't adjust the painting's photo correctly. The blue area on the roof is Purple not Ultramarine Blue and I can't adjust it fine enough to have the same light density to be of the same painting value.
Today I spent a couple of hours evening out gradations, strengthening outlines and such.
Not changing any colors of course. Just making it easier for the next stroke to do what I want it to do.
Make it look easy even though it's not is always an end goal of mine.
Someone in the Painting on Location group asked about acrylics drying darker.
They do, in the mass out of the tube the darker colors will dry darker.
Naples Yellow W/C is a lighter color that will dry darker, don't use it if you are painting transparent water color.
Add white to a low keyed color and the difference between wet and dry is even more noticeable.
Add water and thin the tinted color down and it is the most most noticeable.
Save your precious strokes if you can. They are the first strokes painted in.
The bottom right corner has many saved first strokes that I won't touch.
Here it is finished the forth day.
Below is the finished image photographed in shade and indirect light. Shade showed colors more subtly.
This was photographed in the sunlight.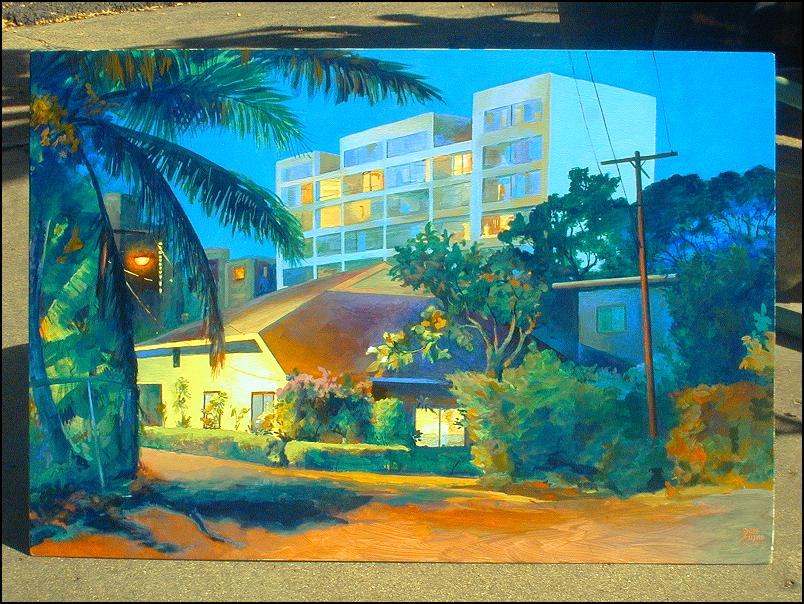 | | | | | |
| --- | --- | --- | --- | --- |
| Preserve early strokes. | Large areas of solid color whenever I can. | | | Use pure white somewhere. |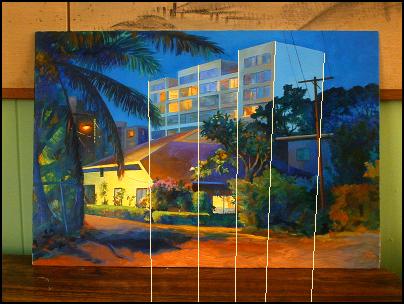 With my head in one position and sighting with one eye only.
I noticed if I kept my head still and just moved my eyes.
All surrounding vertical lines continued to a terrestrial vanishing point way below me.
The only plum vertical line moved with my head.
That's the way I saw and painted it.
Here is the next acrylic painting done at night.
Next door, at night, 15x11 (new window).
NEXT Jacaranda Painting, acrylic, 06/12/02, jacaranda.htm
PREVIOUS Kaupo Girl Sunning on a Bench

Order this complete color course on CD, $35.
Including a 5"x5" laminated Real Color Wheel to use while painting on location.