Emily Booth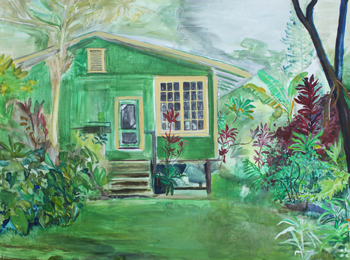 Tom Booth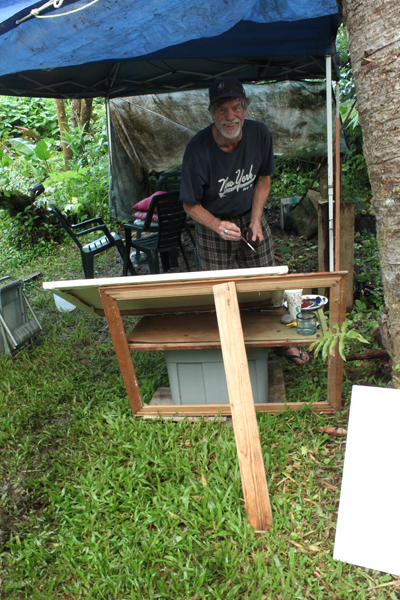 Don Jusko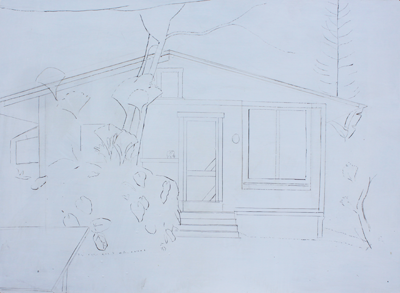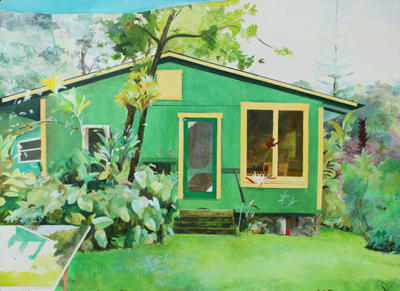 I still have the attic vent slabs to add after raising the roof a half inch. Then give the area under the house more room, add window panes & architectural shadows, finish the teas, the large clump of plants needs more definition. Tom's painting is on my left, he built this rain shelter.
A painting problem perhaps, I used a commercial Glidden Primer as gesso on this panel, I ran out of my regular acrylic gesso. It is soaking up the water in my acrylic paint very fast, causing me to keep adding water. This is only happening here in Makawao now, the humidity is 58% this morning, no rain. This did not happen in Nahiku where it was raining every day.
I'm going to test a small area, 50% poly on the right window pane area, with a water based gloss polyurethane and paint on it when it dries. That may seal it, I know coating a gessoed support with Tip: jar white acrylic aids painting in making the acrylic paint go on smoother.
It will act as an isolation coating, now to cover the whole support panel.
After I wash the painting of course. The 50% coating didn't work so well, the primer is strong and I still have the shadow under the eve to do. I'll give it another 50% coating.
I wish I had finished the painting on location, it's taking too long doing it from a photo.
But it rained all week and there was a storm coming.
10-16-15, I'm doing the house tight and re-doing the window panes.
To match a dry color is tough when mixing to match a transparent color wash,
not counting that acrylics dry darker then when they are wet.

Tip: Wet the dry color first to match the wet color going on.
Tip: Transparent green & magenta (opposites) make black.
Tip: Fingers always blend colors well.
Tip: Black won't stick to polyurethane, maybe it used mass-tone will, other colors will. White mixed
with black sticks just fine. It's better to stay with green & magenta as black.
10-26-15, yesterday was the first time I ever saw it green from Kaupo to Makawao.
I'm whiting in the leaves above the clump today, starting with the light sky reflected leaves and
stems.
Now the middle and darker leaves.
11-6-15. Still working on the leaves, not much but a little each day.
11-7-15. The wall shadow on the left is done.
11-11-15., finished, now a photo, a clear final coat and add a web page.