8-17-10
5 "New" Old Painting Added
From Hana as North East end, to the barren South East end, is called the back side of Maui and the clement and vista are exquisite.
I'm at my friends house with the artist Tom Booth here in Nahiku, 15 minutes North of Hana. Nahiku near Hana is the wettest inhabitable spot on Maui. Hana is in the North East part of Maui, Piero Resta's View painting next is closer to the South East. The two paintings span from the wettest jungle area to the driest desert area on Maui.
Because it is so wet here at Tom's a unique tree grows called a Rose Apple Tree, it can put its roots under a stream bed and thrive. The fruit is a small round mostly hollow one that has a lavender taste like that French lavender colored candy. Here's a small table decoration I painted that shows two pale yellow rose apples with red strawberry guava sitting in half a a coconut. #852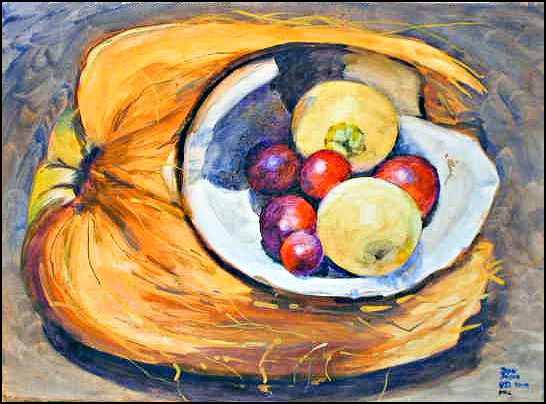 Transparent yellow-green dual-toned 36RCW#36.6 really comes in handy when the foliage is always wet and the bright sun through the leaves colors the mid-shadows with this warm yellow-green
After painting the driveway painting I cleaned my brush and palette by painting this same scene on the inside of my oil paint brush box. I am really fast by 6-8-95, #804, 26x20, it's an odd size for me as I usually paint on 22x30 cut in half and half and half. The Previous painting, my latest that I'm still working on is only #967 and will take me another week in my studio location.
This painting of Tom's Driveway with Rose Apple Trees is painted with alkyd oil, a very fast, crawl all over it in three hours media. I have to say I like painting with it. Media Table page.