Painting on Location
by Donald A. Jusko
Anna's Bouquet in 3 Transparent Primary Pigments
with Copal Medium
11"x15" Oil Copal on Linen Panel
Anna is my student that came to Maui to study, she is a new gifted artist. This is her 2nd oil painting. We will be studying the copal painting technique. It dries quickly and can be re-dissolved like mastic. It is the most blendable medium in oils.
Garrette Copal Medium. I never liked the brands of copal I tried until I tried Ron Garrett's (ron@garrettcopal.com) there wasn't enough control. His brand painted beautifully.
www.garrettcopal.com
Here is her study.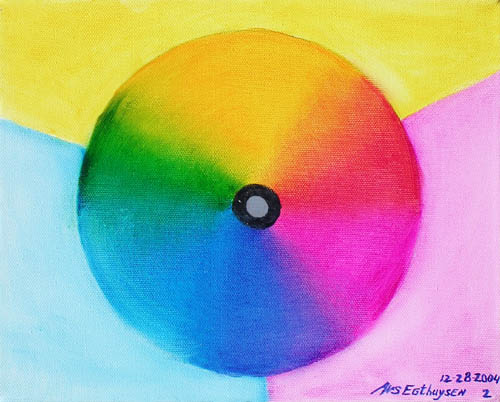 First we painted the Real Color Wheel to teach how to mix any color just using the 3 primary pigments, Indian Yellow O/s from Old Holland, Quinacridone Magenta from Daniel Smith and Thalo Blue from Grumbacher. Here are our RCW paintings. This is my 909th painting on Maui.
Next we painted a still life with those three colors. Using a brush to draw with, here is my simple start from 3 marker points.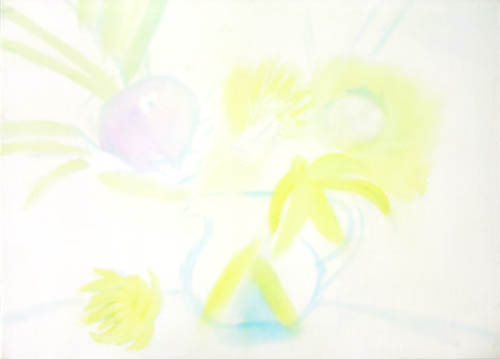 It took 3.5 hours to get this far.
Six hours later we were both finished our paintings, here is mine. 12-29-04.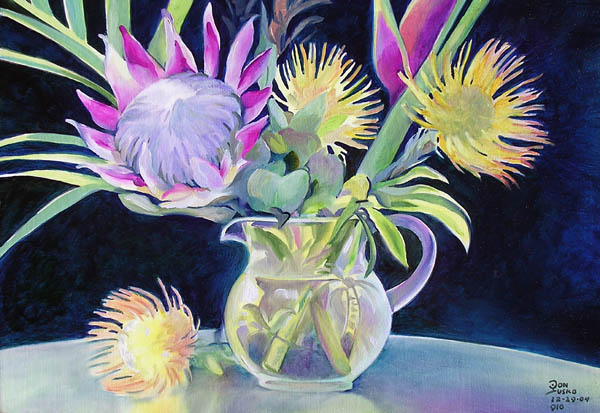 Anna finished. This is her 3rd oil painting.
---
These links are to other 3 primary color paintings, the pigments are:
Dry Pigments;
Indian yellow PY153 from Zecchi,
Magenta PR122 from Sennelier,
Cyan PB15.3 from Senopia.
Food Coloring
The Easter Egg Coloring 6-pack.
Oil Paints,
Old Holland Indian Yellow Orange-side,
Daniel Smith Quinacridone Magenta PR122,
Grumbacher Thalo Blue, cyan PB15.3
Water Colors,
Daniel Smith New Gamboge PY153 Nickel Dioxine is the best Indian Yellow O/s pigment.
Daniel Smith Quinacridone Magenta PV202 is more to the cyan side.
Grumbacher Thalo Crimson PV19 is more to the warm side.
I don't know why they won't use the most stable and magenta matching pigment PR122.
Grumbacher Thalo Blue PB15.3
Children painting with Food Coloring Colors First Grade learning the primary colors.
3 color examples Mixing the three transparent primary colors.
Lime Water Media 75 sq. foot Buon Fresco in 3 colors.
Lime Water Medium Buon Fresco #1 in 3 colors.
Lime Water Medium Buon Fresco #2 in 3 colors.
Maroger Medium Hana Paintings with Maroger's Medium in 3 primary colors.
Maroger Medium The Kaupo Hearts, Black Oil painting in 3 primary colors.
Egg Tempera Medium Still Life in 3 primary colors.
Water Color Painting with 3 primary colors.
Copal Medium with the RCW 3 Color Wheel
---
NEXT PAINTING, Lahaina Banyan Tree, Christmas Night, Copal Media, lahainatreenite.htm
PREVIOUS PAINTING, 3 colors, Kaupo Heart, kaupoheart.htm

VIEW-JOIN THE PAINTING ON LOCATION WITH COLOR FORUM