Sept 5th, 2007
I'm in Little Texas, Mexico, NY for a week. My host, cousin and biggest collector had a set of oil pastels on hand so I started painting his pumpkin patch. The left, light colored pumpkin is already 250 lb.. John expects it to grow another 100 lb.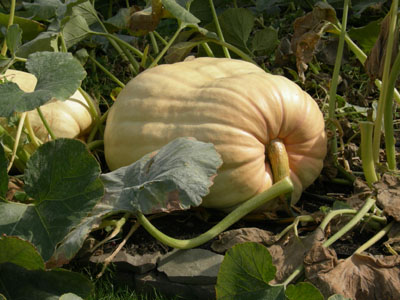 Well, let me tell you the whole story. There were four different media in his set, I planned on using pastel, my paper was for pastel, I was set. I drew in my 3 base points and outlined my patterns. Next I put in the sky in the upper left and realized I was using an oil pastel. Ok... I kept going even though I would have preferred a smooth surface, like the one I was using as support for this pastel paper. But I'm saving that for acrylics.
Here is his pumpkin patch taken from the ground, I decide to paint it from his porch.
There were no dark browns or greens but the sticks mixed well. Not as well as pastels though. My time period is from 4:00 to 6:00. I started to get cold enough for a jacket. I spent another hour filling holidays where the rougher paper made the sticks skip, inside.
The paper is light blue, like the reflection of light I'm seeing on the pumpkin leaves.
This is 2.5 hours on day one.
The biggest problem is the size of these 1/2" wide sticks. It's hard to make details. The dust is damaging to the surrounding area and leaves an oil spot.
These two pumpkins are in the pumpkin patch. That's my cell phone on the 300 pound pumpkin and Madison on the other.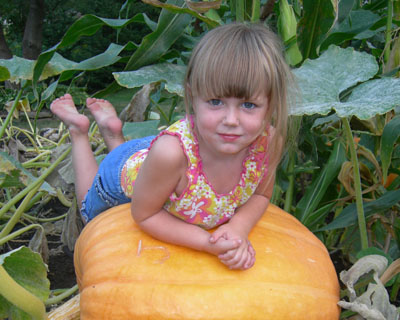 Sept. 6th
Getting ready for my next acrylic.
A few days ago someone asked me how I draw the painting.
I told him, charcoal over gesso, then hard lining the patterns with a pencil thin line of diluted color. Brown or blue.
After paint is applied and dried, I use a white chalk for marking areas that need work, dust it off with a feather and double coat areas with white that are to be changed.
So on this new picture I painted the gesso with white acrylic, I've always liked this surface best. I should have coated this whole batch of panels with a sealing coat of white acrylic. It really does give your first strokes less drag and more even coverage quicker.
Sept. 7th
Today was much warmer, the sun was hazy. The colors are so limited, I worked 2 hours on the porch painting.
Day 2, Every color in the painting takes at least two or three crayons to mix it. It's not a very fast medium. Maybe if I had a set three times bigger..
I was ready to give up, the texture of the paper was showing, I can't put the crayon down dense enough to cover dark dots in the light areas. I laid on some white oil paint with a knife on the big pumpkin.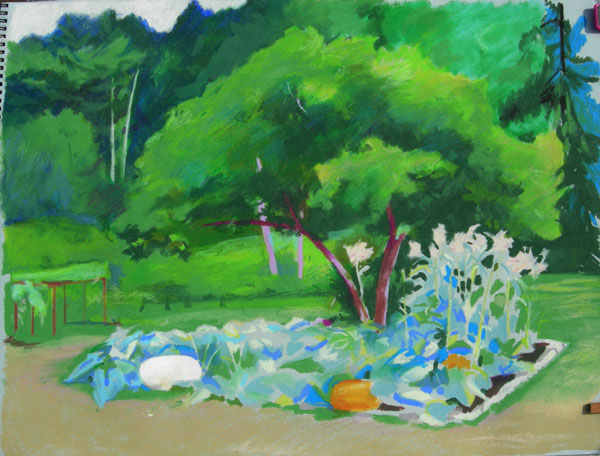 Day 3, This medium is too slow. I have to leave in 3 days, and I want to get another painting done. I hate to leave a painting unfinished.