Opaque Cadmium Red Light or Dark and Transparent Cyan Thalo Blue mixed together will make a dark neutral color. Good for the shadow of a red tomato or any cyan colored object.
Venation Red Oxide is a darker Cadmium Red, it mixes into a neutral dark also.
In it's transparent mass state Thalo Cyan Blue has an Ultramarine Blue appearance.
It's drawdown would look like this.



It looks like this in the Beryl crystal.
BERYL, Be3Al2[Si03]6, H7.5,SG-2.7, hexagonal crystal system.
BERYLLIUM element in Beryl crystal makes cyan and yellow, idiochromatic.
ALUMINUM, yellow-orange, idiochromatic,
IRON, green, yellow-green, yellow, orange, red, scarlet, magenta purple, blue, azure, cyan, turquoise, iron at it's best will display the whole spectrum in Beryl. Allochromatic.
CHROMIUM, green standard, #11, [CCYY] and red, allochromatic.
MANGANESE, red, allochromatic.
Double elements in yellow #1,[YYYY], cyan #9,[CCCC], red #3, [YYMM], and green #11,[CCYY], all standard colors. Yellow [heliodor], magenta [morganite], cyan [aquamarine] and green [emerald].
ALUMINUM in beryl excepts a lot of foreign chromates, just as it does in the corundum and spodumene compounds, Here an aluminum light trick is found in the aquamarine, light cyan is seen from one direction and deep cyan from a 90 degree off angle.
These are the actual pigments.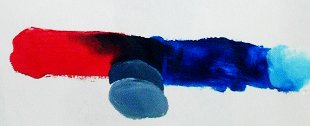 This is W/N Phthalo Blue P.B.15:1, a red side cyan, it works but Grumbacher's PB:15 is truer.