RCW
The Original REAL COLOR WHEEL by Don Jusko
This is the only color wheel like this in the world.
Original and designed for the pigment artist.
This is the only one, get it now, free. Mix all the colors you see easily.

Real Color Wheel main page.
All dots are links to pigment colors. The center links to the photo color chip chart.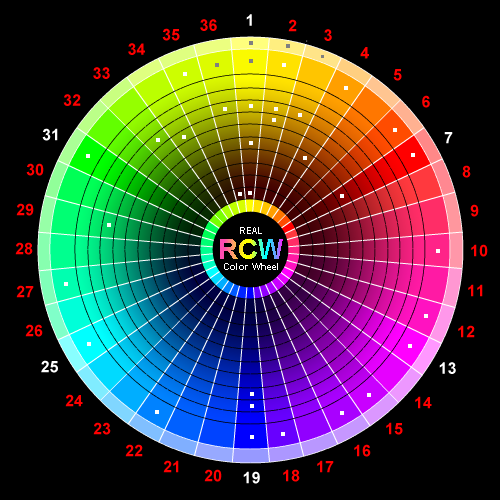 Real Color Wheel, All About Color
Match your tube pigments to this real color wheel for artists.
RCW 36 color palette for computer and pigment painters.
Get the zip link free with your printable color wheel above.
Yellow is divided into warm (yellow) and cool (yellow-green), not just cool like the RGB model.
This addition of warm yellow to the YMC colorwheel sets it apart from the computers RGB-YMC.
Plus cyan's change to a cool blue dark makes this Real Color Wheel original.

Compare these color wheel scales, YMC-RGB and Real Color Wheel.
Munsell's RYB doesn't have the colors right, no cyan or magenta.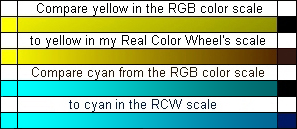 NOTICE the RGB scale goes to black
This adds green to yellow and cyan colors
RGB has yellow and cyan darker pigments in the wrong place
Naples yellow, ochers & umbers are not under yellow
Use the Real Color Wheel in your Art Pad and all painting techniques

Get the link to print out this wallet sized CMYK card, carry a colorwheel with you.
NEXT, RadioClick the pigment name and see the color
PREVIOUS, Coloring page to color in on the computer with the Real Color Wheel.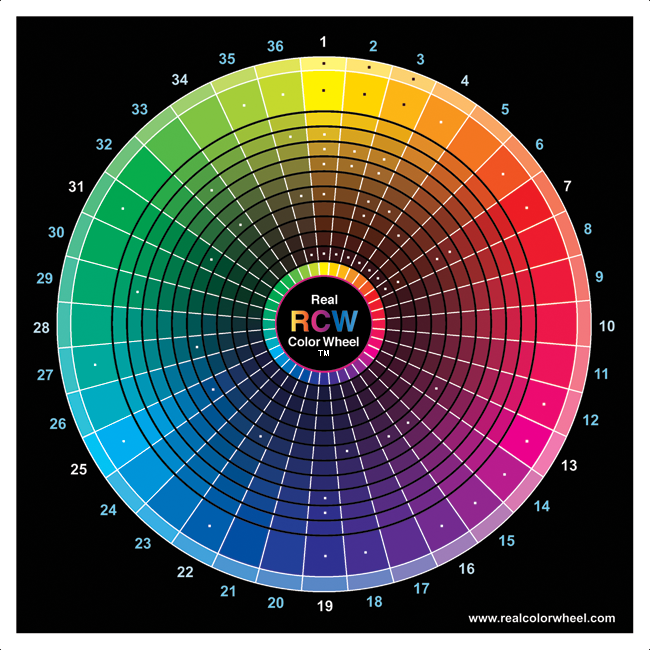 Order this complete color course on CD, $35.00.
Order only a 5"X5" Laminated Real Color Wheel $10.00.
Painting on Location Join color forum show your location paintings.
Email - Free tif RCW printable zip, businesses card zip and Pen Tablet Palette zip.