TRANSPARENT YELLOW
I have been working with a chemical company called Spectra Colors Corp. in my home State, N.J., 4-2-6, to provide my transparent yellow color. Spectracid Tartrazine 170 / Acid Yellow 23 / Azo / C.A.S#: 1934.21.0 / H:1 F:0 R:0 P:D / APR 25,2006 / Lot # T14976 / Scc Order # : 63305, is my choice. This is it, a transparent Indian Yellow for plotters and artists. It is very permanent, never changing at all after 6 months in the hot Lahaina Sun, the ball point writing was gone. 1 part Ethylene Glycol and 1 part water added to the 2 parts pigment made it waterproof ink when dry. As a water color add gum arabic and a little honey. To make an acrylic transparent yellow equal to PY:153 dioxine nickel complex or PY108 Anthrapyrmidine, add some acrylic gel. The amount of water added to the pigment to print a cadmium yellow light is water-ethylene glycol 9:1 pigment. In this image there are 3 cups of 1:9 mixtures, (they all look similar) this is the pigment and dilution I'm printing with.
The two rows are graduated hues. Printing with full strength (1:1 with water) the ink printed a cadmium yellow medium hue color. 1:9 is what the plotter needs to bring it down to cad yellow light hue. I found all colors with yellow included in them are rich and more beautiful.

The yellow ink for printers/plotters is opaque today, and I found it prints weakly as a tint. Yes, the printing industry can use an upgrade.. So could our National Color Index, it's lacking because it's based on calling red, yellow and blue the primary colors of pigment and not having a proper definition of transparent, translucent and opaque.
1/15/11, It's taken five years but I now have independent CONFORMATION for my transparent yellow plotter ink, it has now been reported in an article by the Helsinki University of Technology.
Understanding the Chemistry of Inkjet Dyes
"Researches were done at Helsinki University of Technology to understand the light fastness of inkjet prints for the first time."

http://www.dyespigments.com/inkjet-dyes.html (link removed, sad)
Given here is a few of the inkjet dyes that are available in the powder form along with its characteristics.
CI Name CI Number Concentration Quality Characteristics
Reactive Red 180 181055 100.00% Salt-free/RO Magenta (standard)
Acid Red 5 45100 400.00% Low salt Standard for toning as well as shading
Acid Blue 9 42090 165.00% Low salt Cyan (standard)
Direct Blue199 74190 175.00% Salt-free/ RO Greenish blue
THIS IS MY TRANSPARENT YELLOW IN MY PLOTTER
Acid Yellow 23 19140 200.00% Salt-free/RO Red shaded Yellow (standard)
Direct Black 168 30410 165.00% Salt-free/RO Standard
Direct Black 1935255 200.00% Salt-free/RO Standard
THE NEXT GREAT STEP WILL BE FOR INKJET INK MANUFACTURES TO START DISTRIBUTING TRANSPARENT YELLOW INK.
---
Saying red (which is made of yellow and magenta), is a the primary color and giving magenta a code like PR:122. That's (P) for pigment and [R] for red #122 in the Color Index.
This should be changed, the whole system of stating colors should be updated to reflect the true primary colors.

Yes, the Yellow, Cyan, Magenta color wheel is accurate, not the red, yellow, blue colour wheel is not. Compare them. My color wheel adds to that, it matches the way elements in nature get darker. This gives the ability to mix all opposite colors into a neutral black and correctly moves yellow to brown not greenish-black and cyan to blue with no greenish-black in it.

This is a big problem today, because all of our State Schools are commanded by the States School Standards to teaching the Red, Yellow and Blue as primary colors. Very sad.

The cyan ink used also has a problem, it's not a pure cyan but rather a cyan hue that has a magenta side. I have ordered some manganese dry pigment from Old holland to make a truer hue and will test it as an ink when it arrives. This will probably solve the printer problem of making a good cyan printout.
That didn't work, There is no transparent manganese that I can find and the opaque manganese just won't do. 4-2-6

9-27-8, I'm working on the cyan again because I'm just not satisfied with the ink in my plotter, it doesn't matter which brand I use, none of them are good enough for me. I wrote to my old friends at Spectra Colors.
Good afternoon Don,
Thank you for your e-mail. We are very happy that we have been able to find a transparent yellow dye that you could use.
I will be sending you some samples for your waterproof water based ink and for the transparent cyan ink. You should be receiving them next week. I will follow up with you in couple weeks to make sure these dyes worked for you. Please let me know if you have any other questions or if you need any additional samples.
Thank you.
Sincerely,
Alexis Capik, Account Manager - West Coast Sales

The pigment arrived and I tested them on paper, canvas and glass. This is the first time I found true PB:15 ink for my plotter. I was so tired of compensating for the magenta side inks I had been buying. I just couldn't get a good cyan colored sky or water. This may be the answer, it looks great on paper but it will be awhile before I get it in my plotter to make a print run of my color wheel.

11-20-8, Pigment= Spectra Cyan is SPECTRAMINE BLUE FBLK LIQ Direct Blue 199, 1:6 water/ethylene glycol. Now I have a good complete transparent ink palette. I like a cool black ink opposed to a warm one. I'll work on that next.

Today is 11/23/08. It is now 12:11 PM
My plotter, a 6 color Roland FJ50, is running beautifully with my own cyan ink today. For me it's a historical day.

Last week I was testing Media Streets G-7 cyan. That's the cyan for 8 color printers. Remember, my problem is the cyan I am printing leans to far to the magenta giving problems with light turquoise greens and similar colors. By adjusting the image itself and subtracting some (10-15%) magenta out of the blue colors I got a better cyan on my color wheel and all other images I printed.

The day before yesterday I ran out of G-7 cyan in my plotter. I have two bottles on hand so it was no problem. Instead of just refilling my homemade bulk ink system I decided now was the time to work on my Spectra cyan. Spectra had sent me cyan in two forms, dry pigment and liquid.
This is how I tested and compared the different products. An eye dropper will give equal amounts per drop if the viscosity is the same or not. My viscosities are the same. For each color ink I made a chip color: 1 ink to 0 water = 1:0, the full ink color. And 1:1, 1:2, 1:3, 1:4, 1:5, 1:6 all the way up to 1:24. Spectramine Blue FBLK LIQ, Direct Blue 199 is the only color matching the Grumbacher Thalo blue oil paint that I love and promote. I have found that transparent color. PB:15, to be able to mix and make any color in front of me as I paint in any media.

As far as the different ink colors for different plotters is concerned, this is what I found. MediaStreet G-6 cyan for the 4 and 6 color plotters reaches the same value (not color) by diluting the Specta "cyan" like this, 1 Spectra : 2 water : 1/4 ethylene glycol. I use the addition of ethylene glycol as a slower drying lubricant for my plotter's heads.

This final color is still too dark in my opinion. The cyan it prints on my color wheel looks too blue. Remember, cyan changes to blue as it gets darker. For my plotter I settled on 2:5:1/2, two spectra liquid, five water and 1/2 ethylene glycol. I'll adjust the final color with the addition of ethylene glycol.

As for the other ink colors, comparing all color values,
Spectra "cyan" to MediaStreet G-6 cyan is the ratio 2:1,
MediaStreet G-6 cyan to MediaStreet G-7 cyan is the ratio of (1) G-6 cyan : (2) water. That should save some printers a lot of money.
MediaStreet G-6 Light cyan is the same as G-7 cyan. Well, very very close, G-6 Lc is a little darker, I always thought it was too dark.
G-6 cyan 1:8 is the same as value 1:20 Spectramine Blue FBLK LIQ, Direct Blue 199
G-7 cyan 1:4 is the same value as 1:30 Spectramine Blue FBLK LIQ, Direct Blue 199
G-7 cyan 1:0 is the same value as G-6 cyan 1:2 water.

Conclusions;
1. MediaStreet and all the other cyan inks I have tested cyan lean too much to the magenta.
2. Making your own ink is much cheaper. Making if from a liquid pigment is easier to measure.
G-7 ratio 1:4 water is the same value as home-made Spectra "cyan" 1:24 water1:1ethylene glycol.

Here is a 256 color Real Color Wheel Swatch Palette © in CMYK for you to down load, convert it from RGB to CMYK and use for your printing purposes. It will convert properly because it was made in CMYK. You can use it but not sell it or a print of it. The small squares are opposite complement colors. Ask for the free .aco file to install it in your graphics program.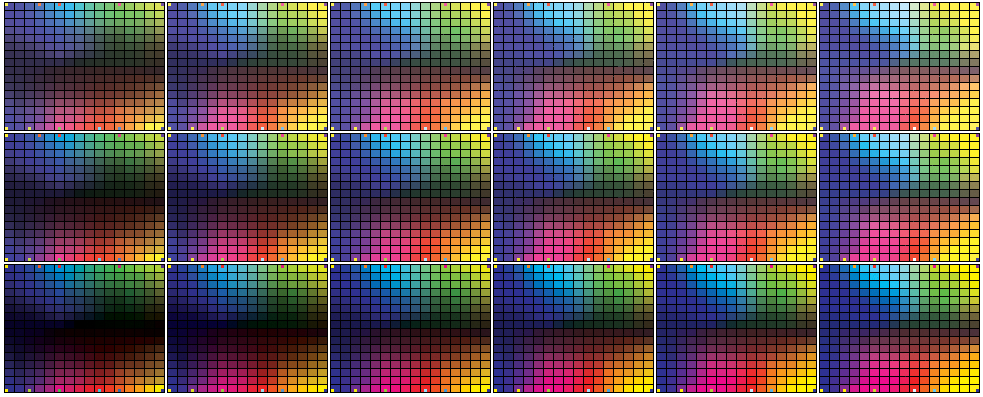 The color is cyan but they, like every other manufacture in the color industry, still use colors based on red, yellow and blue primaries (the old Church/Ostwalt system.) The ASTM needs a major upgrade, but it's not going to happen without public insistence. My Real Color Wheel works, it has a placement for each brown in existence as well as every other color.
5-29-9, Spectra sent me Spectra Red 122 PC DISP, it's a perfect magenta. I had samples from five different ink distributers, only Ink Jet Art OEM Compatible, Bulldog's Durafos and Spectra had the correct color. Bulldogs Durafos magenta has a little PV19 in it I believe, the colors separated on a wet napkin.
I did tests on; Ink Jet Art OEM Compatible Plug-N-Play Cannon (Media Street label). inkfullstrength1:1water, 1:10, 1:15, 1:20, 1:25, 1:30
1:10 looks good as Magenta
1:25 looks good as Light Magenta
Only Spectra Red 122 PC DISP is perfect, It's still a special order for "Spectra Red 122".
Now I have a complete set of Spectra transparent inks, plus the Spectra Carbon Black AC DISP. It's very important to adjust Spectra's raw pigment density for ink jet printers, too dense will clog your heads. Clean your heads by drawing ammonia down through the head, never up through the head.
---
(back again to 4-2-6) The smallest square matches the primary cyan in this colorwheel.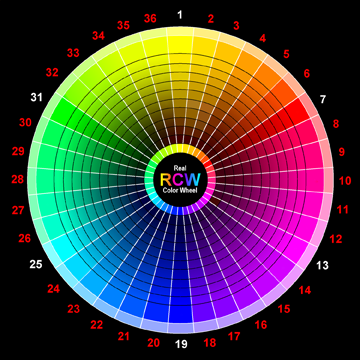 The small square is the color taken from the under-tone of cerulean. The smaller square is the larger square lightened. The color I want opaque and transparent should make this transition.

Below: In this image the top two are pigment inks I print with on my plotter. The bottom left is Liquitex Thalo blue, the bottom right is has chlorinated phthalocyanine. It is the color I hoped I could get with manganese transparent.
3-1-8
I got it! Old Holland now has an oil paint called Manganese Blue, it is transparent and perfect! Thanks Old Holland, it's made with berium manganate PPB33. In this RGB image you can't see the difference in the under-tones but you can see it in the mass-tone.
1-22-7
I can't believe what Hewlett Packard did. They made an 12 color plotter without cyan, (light cyan, magenta, light magenta, yellow, red, green, blue, light gray, gray, photo black, matte black, gloss enhancer). Cyan darkens to blue, like the Iceland Spar crystal and others.
Transparent yellow and transparent cyan make the transparent green hue that will mix with transparent magenta and make a darker neutral so less black will be used. The normal RCW yellow to blue opposition adds magenta to yellow before adding cyan. Its all complementary oppositions to reach black. Include transparent Azo yellow as the replacement for the opaque yellow we are using as ink today. Yellow and magenta are the split complements that mix with cyan to make a neutral dark. Someone has to do it, I like my tests so far.
The computer viewing difference between RGB and CMYK
The lower two files are 1) RGB and 2) CMYK converted to RGB. They are graduated red to cyan.
The same way pigments mix to black instead of light's color wheel where red and cyan mix to white.

Below is what they look like printed in RGB and CMYK, RGB has a darker,
bluer cyan printout than CMYK. Both have same red to dark gradation.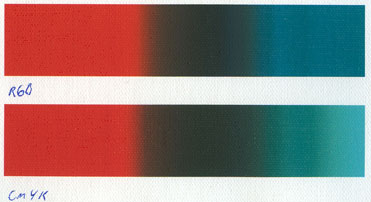 This scan is of a print showing the difference of Black, blue, cyan, green, magenta, red, yellow and purple in RGB and CMYK.
There is a big difference between the blues, cyans and magentas. There is a smaller difference between the reds and purples.
CMYK prints the better, it gives a more accurate color image.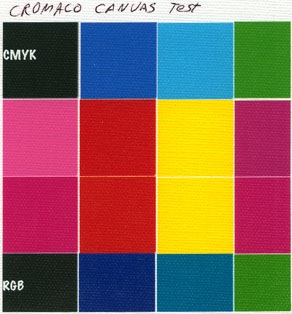 TIP: IMPORTANT NOTES ABOUT COLOR PROFILES


PhotoShop Assign Profile = Gives the new profiles colors and the new profile's name. (Euro has the least intense & most intense colors)
PhotoShop Convert to Profile = Keeps the same profile name and changes the colors.
UnCoated = more intense color
Coated = less intense color
USweb uncoated = slightly more intense color than coated
USweb coated = slightly less intense color than uncoated
Euro uncoated = less intense then USweb uncoated
Euro coated = The most intense, more intense than uncoated USweb or Euro uncoated
From least intense to most intense. = EuroUncoat - USwebCoat - USwebUncoat - EuroCoated
In the end I think U.S. Web Coated (SWOP) v2.icm is best. I can take an image that looks great on my computer and printed at KinkoFedX, subtract 50% of all my inks except -60% of K and it prints on my plotter great. That's how I print my colorwheels on matte paper. (NOTE .icc & .icm profiles are swappable, just change the syntax extension)




TIP: IMPORTANT NOTES ABOUT COLOR PIGMENTS

6/1/09. It is now 10:43 PM - Made an ink test with 2 passes over the same print, blue down first, transparent yellow PY100 (I made my own ink) over blue, second-pass made the darkest neutral second color. (1) Yellow over blue, (2) yellow-gr over purple, (3) green over magenta, orange over cobalt, cyan over red was too red because I can't print the cyan tube mass-tone color with the cyan ink, it would take a third printing pass.
8-8-13. Five years later they are still as bright as the day I printed them. These are the same pigments I paint with :)

View the giclees I have printed on my plotter.

This is the link to the color forum online where we can chat, after you join.

REAL COLOR WHEEL PAGE



NEXT INDEX PAINTING, Mike's House blue, jacarandamike2006.htm
PREVIOUS INDEX PAINTING Nahiku Porch, 2 artists same scene, acrylic and oil, nahikuporchacr.htm
PREVIOUS PIGMENT, Transparent Tartrazine dual-tone Indian Yellow PY:100, indianyellowtobrownTartrazine.htm


Order this complete color course on CD, $35.00.
Order only a 5"x5" Laminated Real Color Wheel $10.00.
Free Shipping