#961, 3 of 3 paintings done on this location.
I bought a bottle of friskit this morning, Graphigum by Lafranc & Bourgeois and I'm ready to try it out. I drew in the big patterns and the connecting branches.

The maskoid is white and goes down clear to start with and dries shiny and slightly yellow. It was after five when I left, I could work longer because I wasn't painting colors just the drawing and friskit.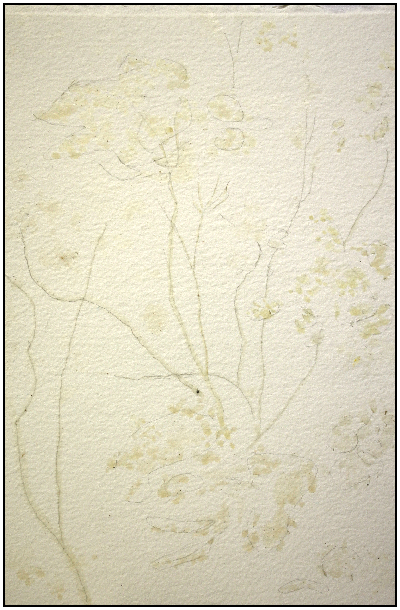 Day 1 on this 5x7 w/c. Day 5 on this location, 5-14-10, 2:00 pm. I worked on the 1st, 2nd and smaller 3rd 5.5x7.5 painting. The second is on the back of the first, dumb, really dumb if your going to put it into a frame. I should know better. It's been a long time since I did that. They are all on Waterford paper from my stock 10 years ago. Nice stuff.
5/15/10. It is now 12:00 PM, It's cloudy and raining a little today. The third w/c, Jacaranda Detail 5.5x7.5, dried last night and I rubbed off the friskit, it worked clean as a whistle.
Now I will have an evenly blended sky and it's dark enough to show the flowers brighter and lighter than the sky. The pink flowers and yellow leaves can't have any or a very limited amount of cyan in them.

Here's the first wash. Cyan and magenta on top, cyan and yellow in the middle, pure cyan on the bottom.